The tradition of going door to door and singing Christmas carols stems from a desire to share the joy and warmth we feel during the holidays with our friends and neighbors. With the charming collection of Christmas carolers from Byers' Choice, we can bring that joyful expression right into our homes. After just a few minutes with the Byers' Choice carolers, you'll notice something that sets them apart from other decorative caroling figures. With their merry eyes shining and each mouth open in happy song, there's a genuine warmth and personality emanating from their faces, and this charm they radiate has everything to do with the love and attention to detail that goes into making each one.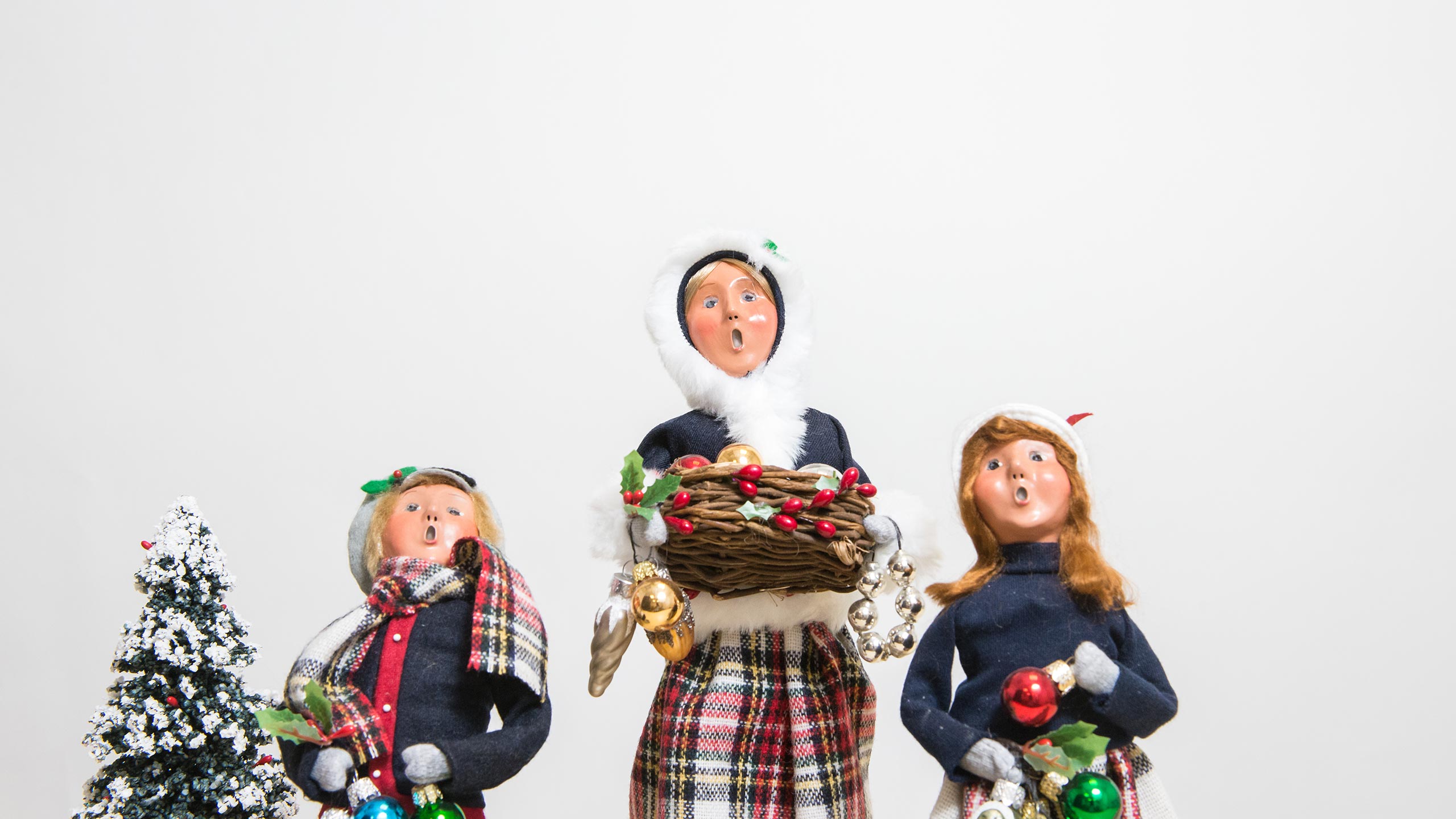 But while the clay is still wet, the artisans adjust the features by pinching in the cheeks, raising the brow, and of course, pulling down the chin to give each caroler their distinctive expression.
The Byers' Choice carolers were a labor of love from the very beginning when company founder Joyce Byers envisioned and created her first carolers in the 1960's. At the time, she put together each one herself in her tiny dining-room workshop. Today, Joyce still designs each caroler – from their hats to their shoes — but now a team of over eighty Pennsylvania artisans takes her designs and brings them to life. Every stage of production is completed by hand – from pouring the plaster base to forming the body to painting, stitching, and the final dressing. Although each caroler in the collection has its own specific design, the artists in the process are given the freedom to lend a little of their own style and personality to the figures they create. Maybe it's the exact shade of pink used for the cheeks or the placement of the highlights in the eyes. Maybe it's a difference in how the head tilts or perhaps it's how the coat or the hat is set. The faces themselves are individually hand-crafted with clay applied to plaster molds made from Joyce's own designs. But while the clay is still wet, the artisans adjust the features by pinching in the cheeks, raising the brow, and of course, pulling down the chin to give each caroler their distinctive expression. Thanks to the collaboration of the artists who create them, no two figures can ever be exactly alike – just like real people. Byers' Choice collectors appreciate this quality and may carefully compare two figures from the same design, selecting the one that for whatever reason, they feel a connection to. Or they may take home a certain figure simply because something in its posture or expression reminds them of a loved one.
In our collection of Byers' Choice carolers, you'll find a wonderful selection of carolers and accessories to choose from. Most of our carolers are grouped into families with coordinating clothing and representing a common theme. For instance, in one group – called Family with Cardinals – Dad holds a bag of bird seed, the daughter an ear of corn, and everyone has a cardinal friend with them to join in the music. Aside from the cardinals, their hunter green coats and green plaid skirts and scarves tie them together as a family. Three of the families – the Nutcracker Market Family, the Gingerbread Market Family, and the Ornament Family – sing their hearts out while they offer special holiday gifts and treats they've made themselves. The Nutcracker group is especially fascinating, with each member holding a beautifully detailed nutcracker doll. This family stands in front of a market stall displaying more of their handiwork. In front of another market stall, the Gingerbread Market family sings and offers bread, cookies, gingerbread houses, and other holiday treats.
In addition to the families, we also have specialty pieces, including one titled Man with Chalkboard. He's a handsome gentleman with a charming, expressive face, a black and white hounds tooth coat, and a big chalkboard wishing everyone a merry Christmas. The chalkboard is real, and if you'd like, you can remove the message it comes with and write one of your own. Near him stands another specialty caroler, the Candy Cane Woman, in her beautiful peppermint-striped skirt and smart black coat. She holds a peppermint candy tree and a handful of candy canes to share with her listeners as she sings. No matter which group a caroler belongs to, they're each sold separately, so you can choose members from a single family or create your own group with favorites from across the entire collection. We also have decorated trees, fences, mantels, and furry animals like polar bears, penguins, and kittens to include in the merry scene too.
As you get to know the Byers' Choice Carolers, it's not hard to imagine actual people behind those expressive faces. Their individual charms reflect the love and dedication that goes into creating each one. You may even see a little of yourself or someone you know as they sing out the joy and spirit of Christmas.