Now that October is here, the inspiration for fall decorating is everywhere. There's always the classic, bright-orange pumpkin with that twisty stem on top and smooth sides – perfect for carving into a grinning face. But jack o' lanterns aren't the only use for pumpkins in the fall.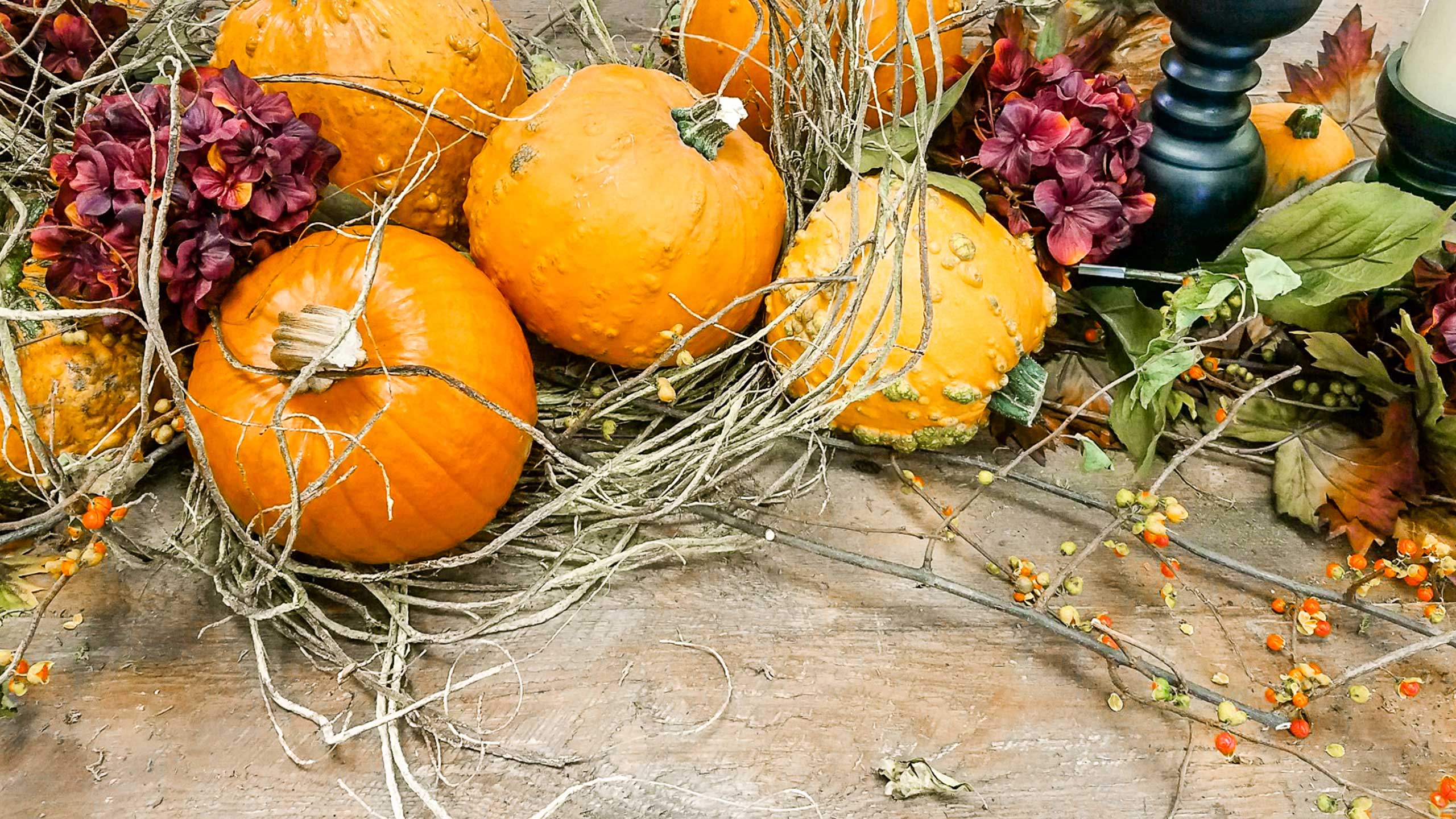 We can use a whole variety of pumpkins and gourds – with their range of colors, shapes and textures – along with other fall décor to create beautiful, nature-inspired arrangements at our doorsteps and inside our homes. If you have containers by your front door, consider planting a single large mum in each, then surround the containers with a loosely arranged pile of your favorite specialty pumpkins and gourds. At the store now, we have an amazing selection – you'll find a mix of lumpy and smooth, striped and solid, glowing orange and muted gray-green. To add more texture to your arrangement, tuck preserved oak leaves and colorful corn cobs under the mums and between the pumpkins. You can also add straw bales, ornamental kale, hedgeapples, and colorful pansies to complete your gathered, cornucopia look.
Many of these same elements can also be combined into potted arrangements for your doorstep. If you missed our Custom Fall Planter seminar earlier this fall and you'd like some ideas for creating your own fall planter, you're always welcome to stop by our Custom Potting department where our designers will be happy to talk with you. We also have a great collection of custom planters ready to take home too.
Of course, with a cornucopia style, there's always the approach of combining lots of bold colors, but it isn't the only option for the season. You can keep the same classic fall elements but give your design a modern twist by simplifying the color scheme. Choose pumpkins, gourds, and mums within a narrow range of color – like all reds or all yellows – for a monochromatic display. For an even more sophisticated design, group white, gray, and tan pumpkins or squash. Mix in blue-green kale or soft perennial grasses to add more textures to this soothing color scheme. But, no matter what color combination you choose, stacking flatter pumpkins – one on top of the other – is another easy way to bring order to what can sometimes be a visually chaotic season.
To welcome fall inside your home as well, tablescapes are a great place to start. Like outdoor displays, decorating indoors with pumpkins and gourds can be as varied or as minimal as you choose. For a simple tablescape, try using a burlap table-runner and large candles or glass containers filled with small pumpkins or gourds. Then place several matching pumpkins and gourds around your candles or vases as well. For more variety and movement, Floral Designer Jess Franks suggests letting nature be your guide by adding in branches, foliage, berries, and other fall-inspired elements. If you're interested in creating beautiful tablescapes to welcome each season, join us for our upcoming seminar, Holiday Tablescapes, where Jess will demonstrate with lots of tips and design ideas.
Whatever design approach you take, whether it's clean and simple or more natural and complex, we recommend repeating the same design elements in other spaces inside or around your home – this will reinforce your own style and create a more cohesive design to welcome your guests.