Is there anything better than the fragrance of fresh evergreens? Our team spends their days enveloped in this intoxicating scent as they help customers select the perfect tree from our collection of fresh cut Christmas trees. They also get to hang out with Sparkle and Chloe, two of Santa's visiting reindeer who'll be making their home among the trees during the next few weeks. For many of our customers, meeting the reindeer and taking home a tree from our "dancing" fresh cut forest has become a yearly tradition, but if you haven't seen our trees during the holidays, we invite you to come take a look. We call it a "dancing" forest because our trees are suspended by their tops from the ceiling of our flat-top greenhouse, allowing the boughs to open, and showing you exactly what the tree will look like in your home. As you walk among them, the trees gently turn, reminding some of our team members of graceful dancers.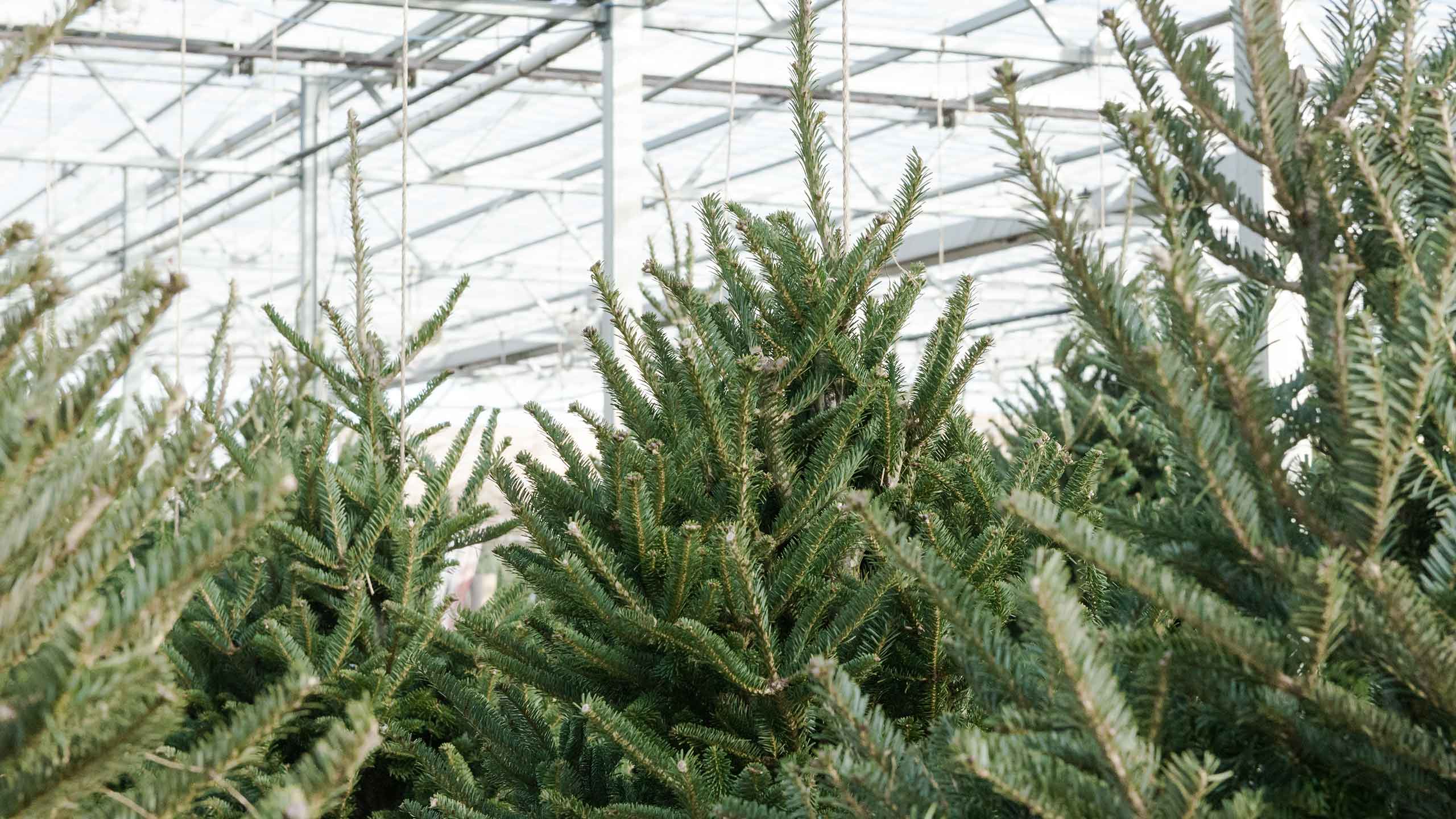 Our trees are suspended by their tops from the ceiling of our flat-top greenhouse, allowing the boughs to open, and showing you exactly what the tree will look like in your home.
In our forest, you'll find four different varieties of fir – Fraser, noble, Douglas, and concolor. Each type has its own personality, varying in branch density, needle-length, and scent. They're all beautiful in their own way, but which one you choose might depend on what kind of ornaments you have, the fragrance you're expecting, and your own memories of what the "perfect" Christmas tree should look like. Our team can explain the differences between each type of tree and help you decide. For example, Fresh Cut Trees team leader Lisa Bachorski says Fraser firs are densely-branched, fragrant trees that hold a large number of lights and ornaments. Noble firs have a more layered look to their branches, with an open structure that's great for displaying bigger decorations or calling attention to special heirloom ornaments. And Douglas firs have short, finely-textured needles, while the concolor needles are longer. Take a look at our Victorian Frasers too. These trees are left un-trimmed by the grower, so they retain a natural, open branching that many people prefer for its simpler, minimalistic appearance. And if you're interested, we also have a selection of potted live evergreen trees. Because these trees are still growing in soil, there's a special process to ensure a successful transition from growing outdoors to living indoors for decorating and finally being planted in their permanent home outdoors again. Just ask one of our team members for more information.
Once you've found your favorite fresh cut tree, we'll untie it from its rope, tag it with your name, and take it to away to be shaken and netted. We'll make a fresh cut on the trunk too. Then, when you've finished your shopping, you can drive around to our Customer Pick-Up location where we'll load it into your vehicle or tie it on top. Delivery and set-up services are also available on any tree we sell – just ask one of our team for details. You may also choose to have your tree flocked in white, which adds a natural wintery look and also seals in moisture, lengthening the life of your tree. With flocking, you can choose the level of coverage – light, medium, or heavy – and even add the sparkle of gold or silver glitter, if you wish. The flocking process will take a couple of days, but we'll also have some trees pre-flocked and ready to go too.
And new to our selection this year, we've added a Grab + Go option to make taking home a fresh cut tree faster and easier for a select group of our most popular trees, the Fraser firs. Of course, we'll give it a fresh cut and help you tie it onto your vehicle if needed too.
Our team loves this time of year, and they're excited to help make your Christmas season special. With hundreds of fragrant trees in a forest-like display, and even a couple of beautiful reindeer to visit, we think our store is the place to find this year's perfect Christmas tree.