If you've visited the store recently, you probably noticed a certain jolly gentleman in a red coat welcoming our customers as they enter the store. Of course, it's Santa, but this impressive version is seventeen feet tall and one of several new holiday displays we're excited to debut this year. In addition to setting up our "dancing" fresh cut forest, decorating our beautiful Christmas trees, and hosting a visit from Santa's own reindeer, we're excited to bring even more inspirations for holiday traditions to the store this year.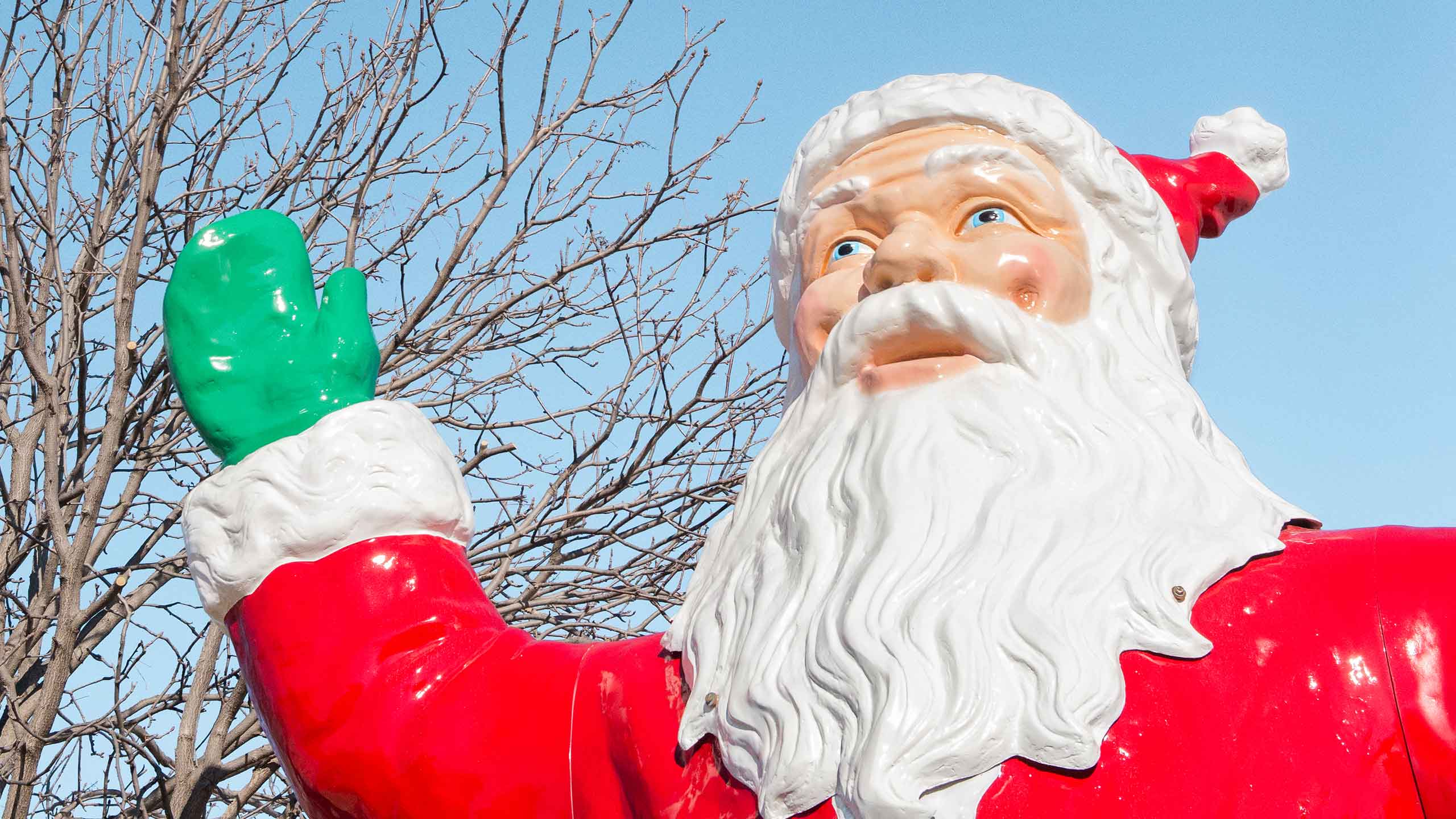 We've added our own twist to the classic plant tower too – a mix of carefully arranged colorful bromeliads and lush green ferns.
The seventeen-foot-tall Santa in the parking lot is one of the most exciting (and definitely the tallest) new traditions we've brought to the store. Earlier this year, members of our creative and merchandising teams discovered Santa on a visit to a large Christmas décor supplier, and they quickly made arrangements to bring him home. Santa arrived in a semi-truck on three pallets and had to be assembled on-site, a process that required nursery operations manager Bill Cambridge to stand inside his enormous boot and look out over the top. We've loved seeing the smiles from both kids and adults when they see Santa standing there waving to everyone with his bright green gloves. He's certainly a popular photo opportunity.
We've also found new ways to celebrate the season in the greenhouse. Just as you walk into the greenhouse, you'll see our enormous red poinsettia tree – all 10 feet of it – filled with about one hundred eighty classic red poinsettias. If you've been a customer of ours for a while, you may remember a poinsettia tree we had many years ago, and our new tree is a look back to that piece of our history. This tree is even taller, and several members of our team including annual buyer Barb Marsh, greenhouse team member Dawn Lacombe, and creative coordinator Dana Howerter made sure the poinsettias looked great, their density was correct, and their placement was just right to create the perfect tree.
A little further into the greenhouse, you'll see we've added our own tropical plant-loving twist to the classic plant tower display too. Instead of poinsettias, this tree is a mix of carefully arranged colorful bromeliads and lush green ferns. Dana and tropical buyer Jasmine Osten worked together to get all two hundred twenty individual plants placed perfectly. The result is phenomenal, and it's creating a buzz among customers and team members alike. And in case you were wondering how each plant is cared for, Bill Cambridge – the same Bill of Santa's boot above – and his colleague Eddie Lopez set up the intricate drip irrigation system that runs through both tree displays, keeping each plant healthy and hydrated.
And in the flat-top greenhouse, we're also happy to welcome back our handsome 1969 VW to its spot among the fresh cut trees. He's all spruced up again for the holiday season. This classic wagon has already been a favorite spot for families to take photos and capture a memory while they choose the perfect fresh cut tree to take home and decorate.
It's these special moments and holiday traditions that make this one of our favorite times of the year. We hope you'll stop in and join us this holiday – maybe even create some of your own favorite traditions.