It's a wonderful time to be in the Plaza of our store. Like the flat-top greenhouse, which houses our collection of fresh cut Christmas trees, our Plaza is filled with the fragrance of fresh evergreen – boughs, wreaths, and garlands. The heady scent filling the air makes you stop, take a deep breath, and smile. It's just the happy experience you'll want to recreate for your guests when they visit for the holidays, and with our beautiful evergreen products ready to take home, our team can help make that happen.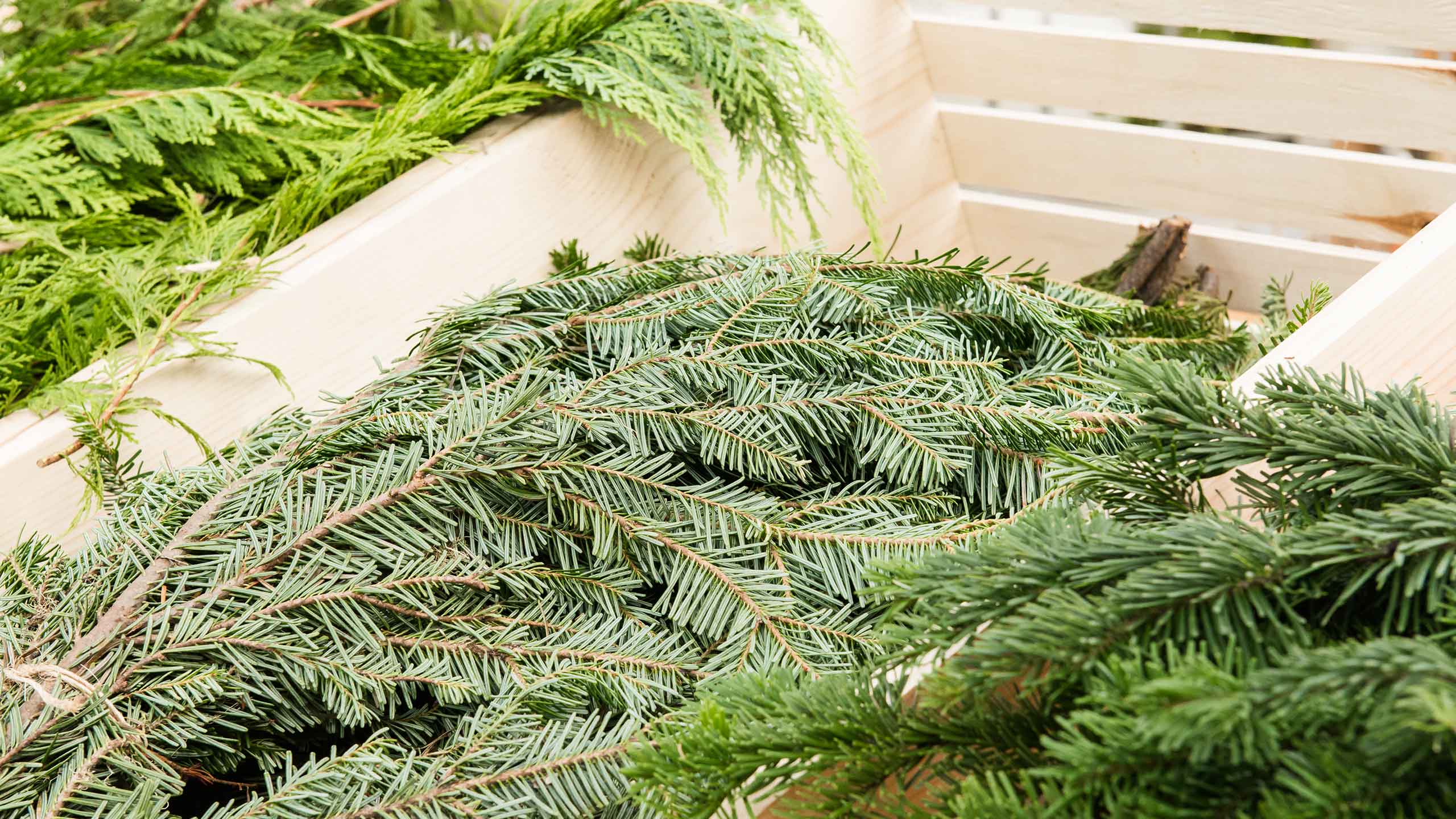 If you love diving into the fragrance and creativity of winter container design, then you're probably looking forward to clipping, arranging, and decorating your evergreen arrangements yourself. Our collection of fresh cut boughs is amazing, with a mix of textures, scents, and shades of green among the different bundles of single varieties. And there are options available for each component of a container design – thrillers, fillers, and spillers. Some, like noble fir, princess pine, and Port Orford cedar have longer branches and can be used as thrillers in your arrangements. They can also be cut down a bit and used as fillers. Others, like white pine tips and blueberry cedar are shorter and bunchier, making them perfect as fillers. Even spillers are represented by the draping incense cedar with its tiny yellow cones that add texture and color.
If you're not sure which greens to choose or how much you'll need to fill your pots, we also have mixed bundles of greens containing just the right amount of our favorite thrillers, fillers, and spillers to fill a 12-, 15-, or 18-inch container. At our Custom Holiday Planters demonstration last Saturday, container designer Jenny Beukenhorst showed us her best tips and techniques for using evergreen bundles and other decorations to create beautiful outdoor arrangements. If you missed the demonstration, no problem – just look for one of our designers near our fresh cut greens market. They'll be busy creating containers right there in the Plaza and will be happy to show you how it's done. As you look around the Plaza, you'll also find fresh red huckleberry, birch poles, pinecones, shatterproof ornaments, weather-resistant lifelike berries, lights, and other décor elements to complete your beautiful arrangements. To keep your greens arrangement fresh and fragrant for several weeks, provide your evergreen boughs with a moisture source – like a pot of very wet soil – and make a fresh cut on the end of every branch before using it. Spraying the greens with Wilt-Pruf – an anti-desiccant product made of pine oils – helps seal in the moisture and slows drying too. If you have additional questions about greens care or design, ask one of our team members for suggestions.
But, it's a busy time of year – sometimes there's just not room in the schedule for artistic self-expression, and we get that. That's why we also have fiber pot containers in three sizes filled with pre-made evergreen arrangements all ready to drop into your 12-, 15- or 18-inch ceramic pots. Some pre-made fiber pots are filled with greens only – so you can add your own decorations – but some are already decorated by our team with twigs, ornaments, berries, and cones. It's instant fragrance and Christmas cheer for your outdoor pots. But, if you don't see the size or style you need among our pre-made containers, a custom design may be in order. Just stop at the desk and talk with our team – they take dozens of special orders every year and will be happy to make one for you too.
In addition to our fresh cut greens and arrangements, we also have fresh evergreen wreaths in a range of diameters from twenty to fifty-four inches – perfect sizes to hang on the front door, above the mantel, or even the side of a house. If you're looking for fresh mixed garland to decorate a banister or to wrap around a pillar, we can cut as many yards as you need too. And all of our wreaths, garland, and pre-made containers have been treated with Wilt-Pruf before they go home with you to make sure they stay green and fragrant for as long as possible.
Our outdoor containers don't have to stand empty through the cold months of winter. We're excited to see more people each year using the beauty of fresh evergreens and winter decorations in their holiday decor. Whether you arrange and decorate the greens yourself or select one of our pre-made items to take home, we have everything you need to create a refreshing and fragrant welcome at your front door.