When floral designer Jess Franks creates a new bouquet, she draws inspiration from the authentic and unrivaled beauty of the natural world. This inspiration is carried through five romantic designs Jess has brought together for this year's Valentine's Day collection. Each one is reminiscent of a hand-gathered bouquet, chosen right from nature's own garden, and their free-form botanical style perfectly reflects the romance of the day.
So Sweet
With blooms in coral, pink, and peach complimented by eucalyptus and textured greens, this sweet combination is a simple, heartfelt statement of admiration. Jess says this one would be perfect as a desktop or centerpiece arrangement.
Love Poem
In a romantic expression of an exhilarating love, this beautiful elevated mercury bowl holds vibrant blooms in shades of pink, red, and green coupled with smoky, textured greens. The roses and eucalyptus together create an enticing fragrance that will fill the whole room.
Memory Lane
Mixed eucalyptus and a sprinkling of small blooms accent this garden-inspired take on a classic Valentine's gift – a dozen long-stem roses in a large, glass vase. The iconic red rose is the most popular, but our team is glad to offer other colors as well.
Hopes + Dreams
Presented in a textured pot with branches, moss, fragrant greenery, and accenting blooms, this is a modern interpretation of the classic dozen rose bouquet. Jess says the bright moss-like greenery is called Green Trick dianthus and brings a new but natural texture to the piece.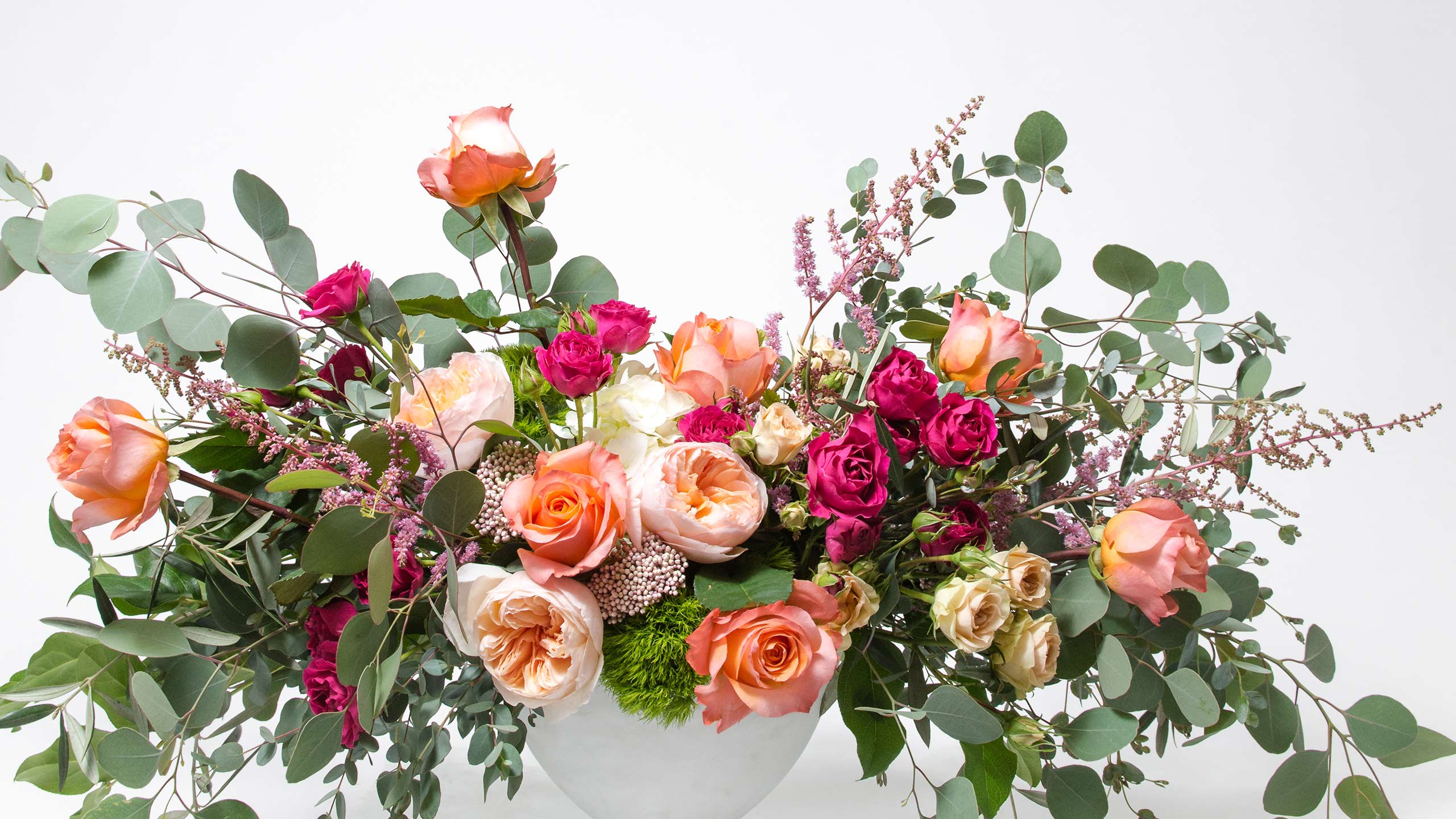 True Love
In a truly heartfelt message of everlasting love, fragrant blooms in shades of blush, coral, and vibrant pink mix with soft greenery as they spill over each side of an elevated bowl. Jess loves the way the blue-green foliage compliments the coral and blush tones in this soft, romantic display.
Inspired by nature's perfect balance of color, texture, fragrance, and flowing style, we hope one of these fresh bouquets will delight someone you love on Valentine's Day. If you have questions or would like to place an order, just give our Floral team a call at 402-963-0750, and they'll be glad to help.