After years of designing with our Custom Potting and Floral teams, Jenny Beukenhorst knows how to design with plants – combining flowers, foliage, branches, and other living and lifelike elements into beautiful indoor and outdoor arrangements. More recently, she's joined our marketing team and still enjoys leading seminars where she can share her passion for creating outdoor containers for each season. On November 18th, Jenny will step away from her desk to pick up her clippers again when she leads Custom Holiday Planters, the next demonstration in our DIY seminar series.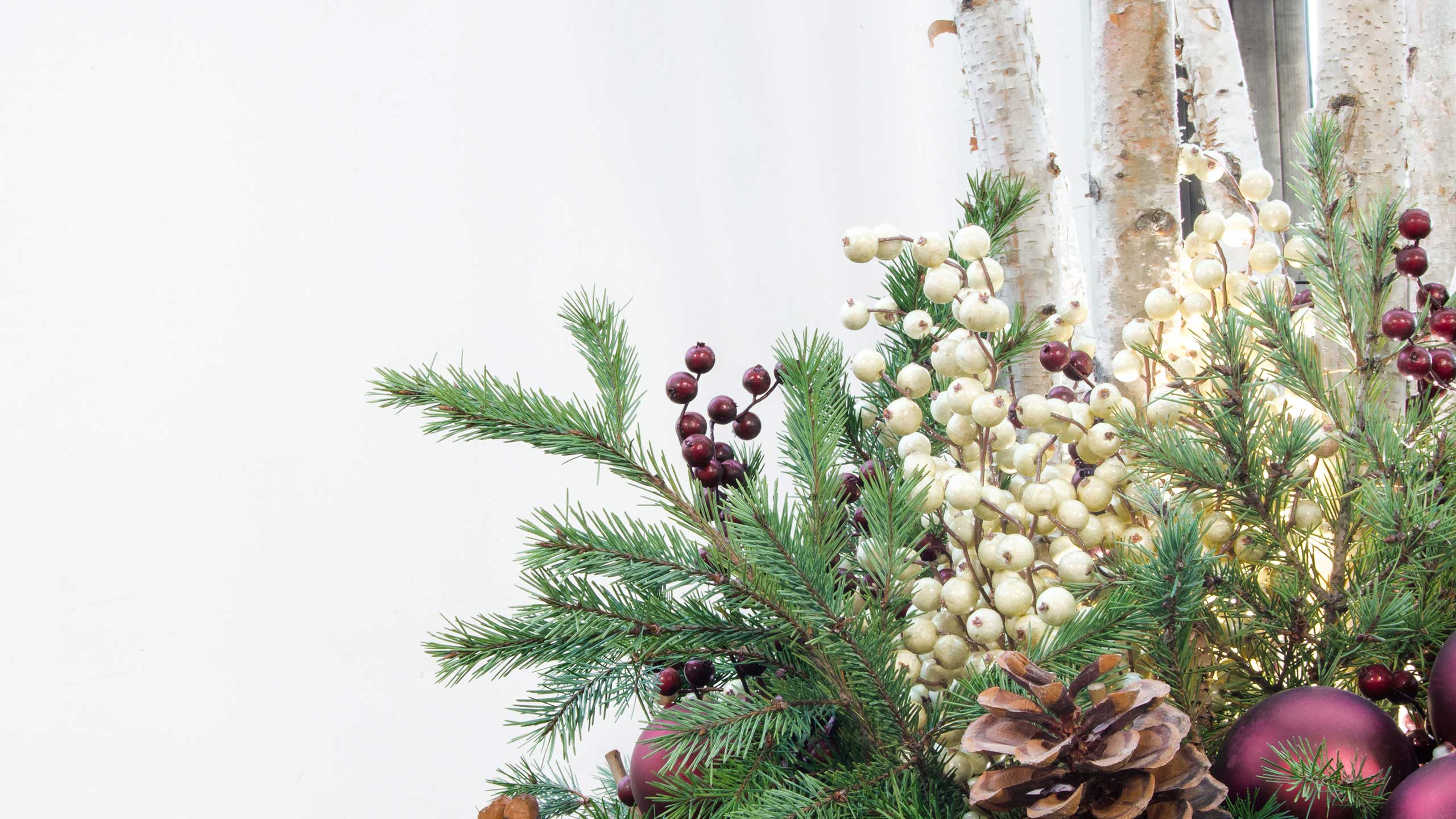 Broadleaf evergreens and preserved eucalyptus work well leading into the holidays, but if you want a little more sparkle for Christmas, you can add colorful ornaments, twinkling lights, or ribbon.
More and more people are extending the life of their outdoor planters, using fresh-cut wintergreens and other seasonal elements to create beautiful doorstep arrangements. And we're excited to share how easy and rewarding it can be. To start, outdoor wintergreen arrangements need a source of water as well as a base to hold the stems securely in the arrangement. Luckily, the professional potting mix that's already in most of our outdoor containers works great for both purposes. After removing last season's plants, you'll want to water the potting mix well, and pack it down firmly. Then, you can start adding the branches. Here at our store, we offer pre-made mixed bundles of fresh wintergreens in a select mix of our designers' favorite thrillers, fillers, and spillers, so they take away the guess-work in choosing. And they're perfectly-sized to fill arrangements in twelve-inch, fifteen-inch, and eighteen-inch pot sizes. We also have bundles of single variety wintergreens like silver fir, blueberry cedar, and arborvitae. Jenny recommends using these single varieties to add additional texture and color to the starting mix. As you're working with the greens, be sure to use a sharp pair of pruners or clippers to make a fresh cut on the end of each stem before inserting it into the wet soil. The new cut opens up the stems so they can take up water again, keeping them green and fragrant for a lot longer. If time is a factor, we also have pre-arranged containers in slip pots that you can just drop into your pots too. But if you're like Jenny, you might find it fun – or even therapeutic – to get your hands in all those fragrant greens.
Once the wintergreen stems are arranged, you can add curly willow branches, red twig dogwood stems, and white birch poles, all of which make wonderful "thrillers" for the center of nature-inspired winter designs. Leafy stems of broadleaf evergreens like oregonia and red huckleberry add a pop of color and a change in texture to the greens too. Preserved eucalyptus is another of Jenny's favorites because its herbal scent kicks the evergreen fragrance up another notch. To continue the natural theme into the "filler" elements, you can add stems of red or white lifelike berries intermingled with large pinecones – this year, ours are already attached to stakes for easy anchoring into the soil. This natural style works well leading into the holidays, but if you want a little sparkle for Christmas, you can add colorful ornaments, twinkling lights, or ribbon for additional flair. Jenny reminds us that after New Year's, you can always take these extras out again and go back to the simpler wintery look through January.
Jenny will show you more new design inspirations in our DIY demonstration, Custom Holiday Planters, on Saturday, November 18th, at 10am and 2pm. She'll show you how to cut and arrange the wintergreens, how to add and secure other décor elements, and she'll also share her best tips for keeping your wintergreen arrangements fresh and fragrant even past the holiday season. If you're able to join us, just give us a quick call at 402-496-0700 to let us know you're coming.