When purchasing a Christmas tree for our homes, the first decision is often whether to get a "real" tree or an artificial one. Each has its own benefits, but at our store, we're not happy with that word artificial. We prefer the word lifelike. Why? Because our line of trees from NeumanTree are so well-constructed and beautifully detailed, they're easily mistaken for the "real" thing. NeumanTree is rightfully proud of their work, and they're selective about who can sell their trees. In fact, we're the only Christmas shop in town where you can find them.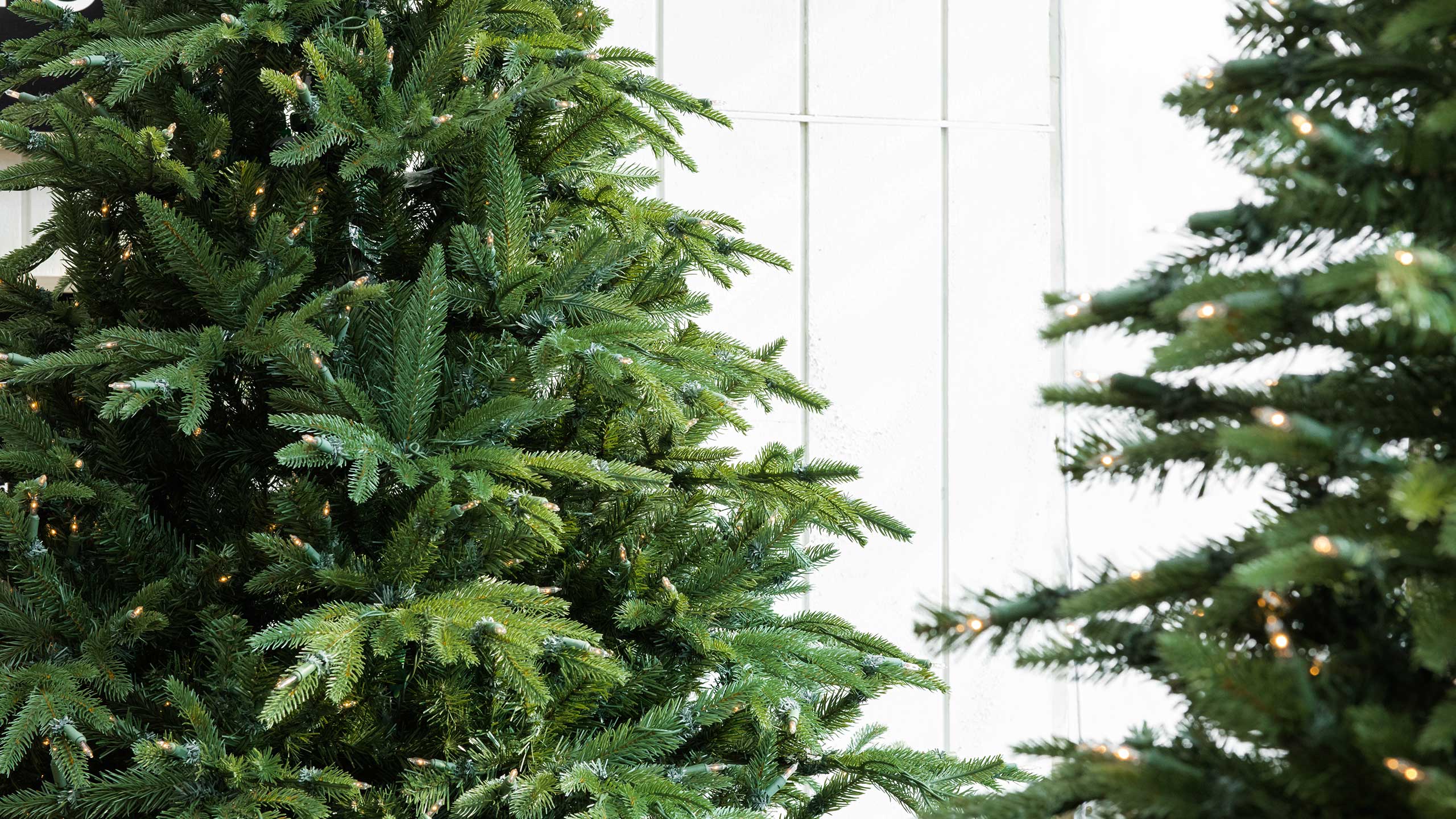 Their design process uses molds from real tree branches to create extremely lifelike needles.
When you visit the store, take a look at our Highland Fir and Bryce Canyon lifelike trees. These two styles are from NeumanTree, and their quality construction starts with forming molds around real tree branches. The molds are then injected with a polyethylene (PE) material to create extremely lifelike needles that are true to the tree species they represent. PE is a heavier material – if the tree were made entirely of PE needles, it would be difficult to move. So NeumanTree uses a lighter, classic style of needle toward the center of each branch and positions the PE branches toward the outside where they're most visible. This dual construction keeps the weight of the tree down while maintaining its amazingly lifelike appearance. Our slender Black Bear Forest tree is also from NeumanTree and features a design made entirely of the lighter, traditional needles plus clusters of small pinecones that give it a natural, woodsy look.
In addition to the quality construction you see in all their trees, NeumanTree also uses a patented pre-lighting process that sets them apart from other lifelike trees. Sandi Ricke, who brings these wonderful trees into our store, says the lights on a NeumanTree aren't strung along one continuous strand that loops around the tree. Instead, the strands on a NeumanTree branch out to extend from the main light strand down to each individual branch of the tree, eliminating visible wires looping throughout the tree. Every single bulb is then individually attached to the tree and positioned so that it faces outward, rather than pointing in a random direction like the bulbs on other light strands often do. NeumanTree calls this their Brilliant Lighting System, and their attention to detail results in a brighter tree with an even distribution of lights. We're so excited about these trees that this year, all of the beautifully decorated trees in our Home Décor area are from NeumanTree. You can now see exactly how this amazing tree will look in your own home, lit up and decorated for Christmas.
Sandi said all our lifelike trees, including our NeumanTrees, come in a range of heights, styles, and shapes to fit beautifully in any space. NeumanTree backs their trees with a ten-year warranty on the construction and four years on the lights, so your investment is protected for a long time. Our other quality trees also carry a warranty on construction and lights – just check the tag for details.
Sandi was excited to point out this year's selection of novelty trees too, often a great choice for a second or even third tree in the home. Some styles feature clusters of bright LED lights with adjustable display functions – you can make your tree flash, twinkle, or glow, depending on the mood you want to create. Other trees are lightly frosted, adding a wintery dimension and texture, and some styles combine small lights with the larger C7 bulbs for a nostalgic look. And, in addition to the classic taller trees, we have a large assortment of shorter styles from thirty-inch table top trees to floor trees in heights from two to six feet. In this group, the gorgeous 4.5-foot and six-foot potted porch trees are from NeumanTree and have been a popular choice already.
We're proud of our collection of lifelike trees. Stop in and talk with us to get more information and for a tour of our beautiful trees – we can help you select the perfect one to build your holiday traditions for years to come.