Last September, Hardy Plants Team Member Kristin Tweedly noticed something striking about the perennial asters. Three or four different aster cultivars were together on the table, but the 'Wood's Blue' was especially popular that morning. Not with customers, but with monarch butterflies. Many species in the Asteraceae family attract butterflies, but on that particular day, the 'Wood's Blue' aster was the place to be for a large group of monarchs fueling up for their trip to Mexico. Kristen said the flowers were covered with them. Because she loves butterflies, that meant she had to try one at home.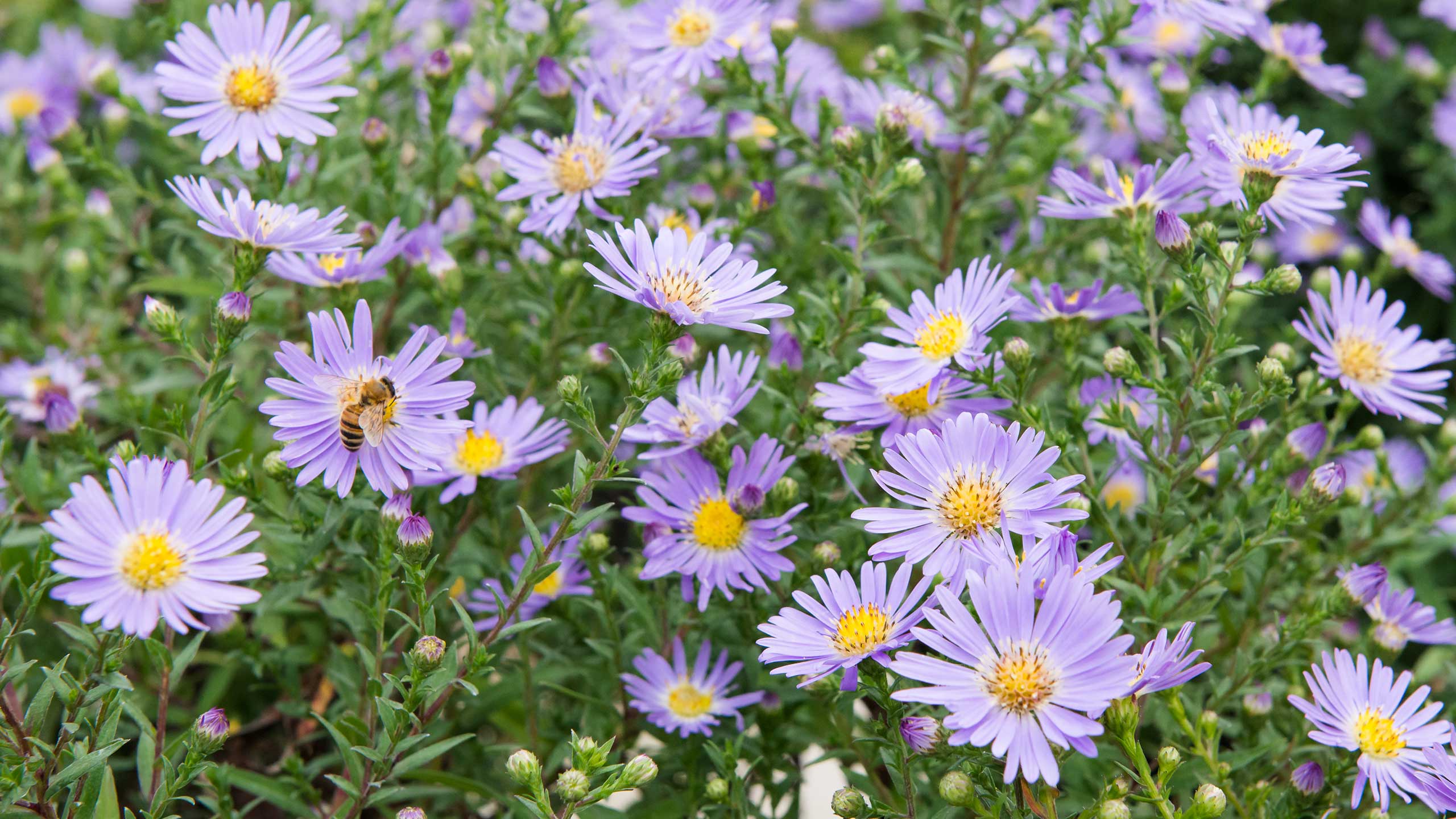 Perennial asters, like 'Wood's Blue,' 'Wood's Purple,' and 'Purple Dome' are late-summer bloomers in our Midwest landscapes. For much of the spring and summer, they form neat mounds of finely-textured foliage. But, in late-summer, the buds open into abundant daisy-like blossoms that completely hide the greenery. Depending on the cultivar, flower colors range from cornflower blue to magenta. Karen Richards from our Landscape Design team says perennial asters have an informal feel that's perfect for a large perennial planting or a cottage garden. She suggested planting asters in groups or drifts for the biggest visual impact. A neat border of asters can also bring definition to a more free-form bed of late-summer perennials like joe-pye weed, goldenrod, and coneflower.
Perennial asters love full sun and consistent soil moisture. They begin blooming in late-August and early-September and are quickly covered in colorful blooms, hiding almost all the foliage. Monarchs, bees, and other pollinators love them. The 'Wood's Blue' and 'Wood's Purple' stay a compact one to two feet tall while other cultivars get a bit taller. To increase branching (and therefore, blooming), pinch them back periodically as they grow, but stop in early July to allow the flower buds to form.
At first, the asters' striking mounds of blue and purple might seem an odd addition to the classic fall color scheme of reds, oranges, and yellows. But, if you look at a color wheel, you'll see the cool purples, blues, and violets are opposite of the warm fall hues. The two groups of colors create a complementary color palette that can bring a fall landscape to brilliant life. With the asters, try little bluestem, whose leaves take on a mauve and blue cast as fall approaches. Russian sage, perennial geranium, and purple coneflower can also bring out more shades of purple and blue in the landscape too.