As part of this year's assortment of cherished Christmas collectibles, we're excited to offer the Original Snow Village from Department 56. Created in 1976, the Original Snow Village started with just six lighted ceramic buildings and was the first of what would become a larger collection of popular villages. Department 56 later introduced the well-loved Dickens Village, which depicts the architecture and style of Victorian England. Now, Department 56 is putting their focus on expanding the Original Snow Village, a collection celebrating the history and culture found in our own Main Street, USA. Throughout this collection, you'll find reminders of Christmases past but also of the people and places you might find in your own neighborhood today.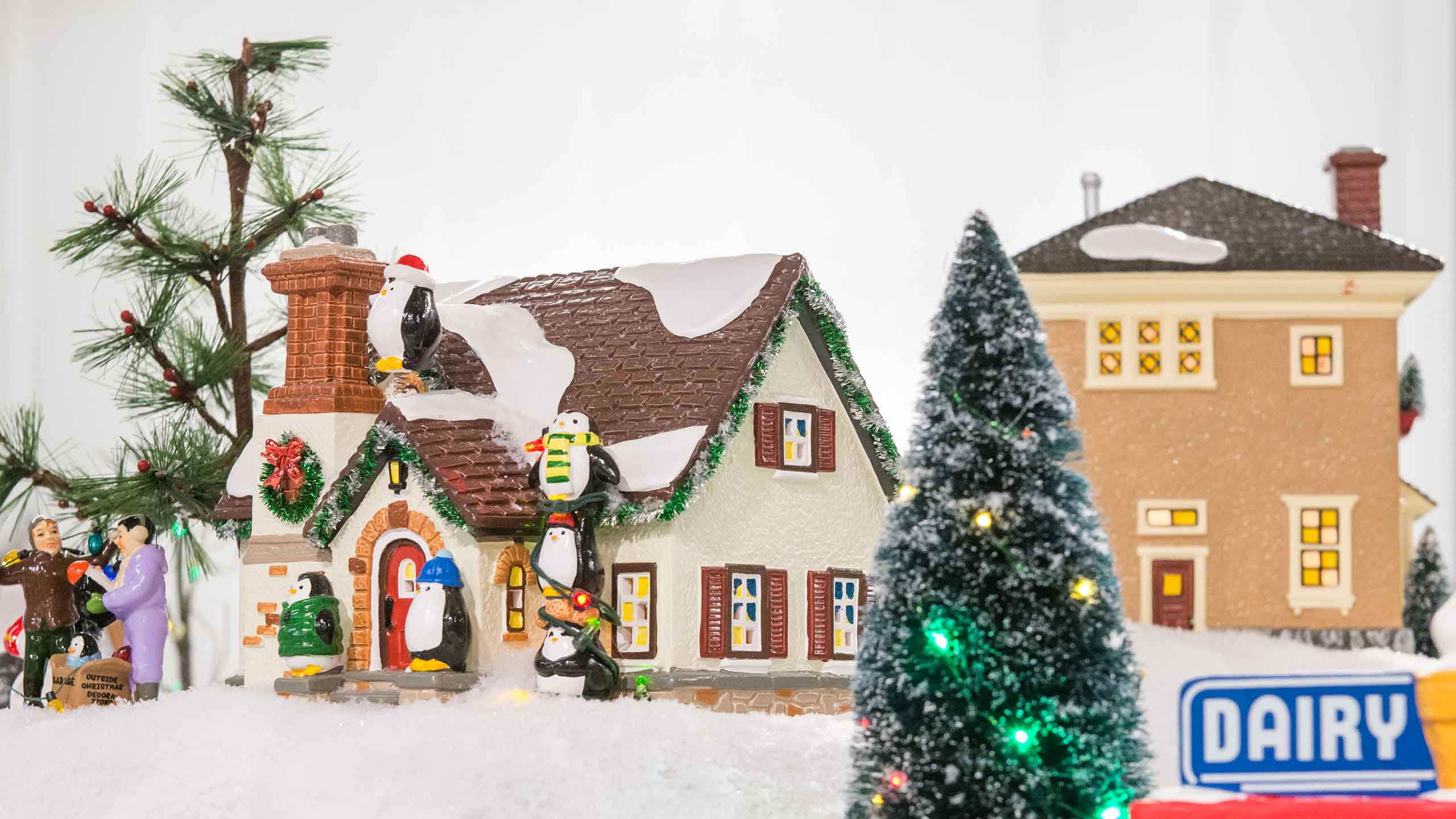 Department 56 is putting their focus on expanding the Original Snow Village, a collection celebrating the history and culture found in our own Main Street, USA.
For instance, take a look at the homes in the Original Snow Village – they look exactly like real homes where real people live, just down the street from you. The Penguin House is probably familiar. Maybe someone on your block (or maybe it's you?) likes to go all out with the inflatable lawn decorations – in this case, penguins. The homeowners of the Snowflake House are a little more conservative with their outdoor décor, sticking with a more sophisticated white light and snowflake theme. Then there's Christmas at Grandma's, which we remember as the best house of all, right? It's a beautiful brick home – lights glowing in all the windows and classically decorated with swooping evergreen garland, a wreath on either side of the door, and red bows. If you look in the front window, you can even see the warm fire in the fireplace and the tree surrounded with presents. Maybe your grandparents had a house just like it, or maybe you do now. It's exactly the kind of home you might find in some of the beautiful older neighborhoods in Omaha.
Other buildings in the Original Snow Village are businesses, and like the homes, they can be found in our memories of simpler times but also along contemporary streets where we live today. The Panda Palace Chinese Restaurant, the Dairy Queen, and La Fiesta Mexican Cuisine all meet the eclectic demand of contemporary American tastes. And according to the sign on the front, the 56th Street Brewery has been in business since 1976 – offering craft brews and good eats from a historic-looking building that has clearly been around a lot longer than its current occupant. The same can be said of The Bike Pedaler's building. This respect for historical architecture combined with serving today's business needs is just the kind of thing you see today in our own Dundee neighborhood.
Along with the Original Snow Village buildings, we also have a variety of charming characters and accessories to bring life and activity to the collection. Some pieces feature movement and light – like Christmas Waltz. In this piece, Santa treats his supportive spouse to a much-deserved ice skating date on December 26th. Some of the trees are decorated with colorful flashing lights too. There's also a display of fresh cut Christmas trees and wreaths for sale – an operation that's near and dear to our hearts. You'll spot a young man about to make an important proposal. A Girl Scout pulling a wagon full of cookies from door to door. A well-bundled bicyclist who's clearly not going to let winter stop him from riding today. And a dad teaching his daughter to ice fish. They're all familiar scenes we can relate to whether they remind us of cherished memories or they represent an important piece of our lives today.
If Christmas villages haven't been on your radar before, we invite you to wander through our Original Snow Village collection and see how many pieces ring true for your own memories and experiences. They may inspire you to start a whole new Christmas tradition your family will remember for years to come.